23 Sep

Ways To Decorate Your Home With Easter Eggs

So it's another time of the year to celebrate not because the fall has arrived; although it could be a good reason too, basically because Easter is just around the corner. You can almost feel that Easter mood in the air and everyone is up and down sprucing up their space in readiness for the Easter decorations. One of the most creative and coolest ways to decorate is to do it yourself. It is so awesome and it allows you to explore new ideas. So here are a few ideas on how to decorate using the Easter egg.

Easter egg at the door
Decorating for Easter is not as easy as Christmas so for this kind of decoration, you could start at the door. Make it known that you are also celebrating Easter and what a better way to do that than the door décor. So how do you do this? Well, you could start with taking something with a handle such as an old rusty watering can or even a woven pouch to act as a flower vase. Then add some egg shells made of pastels sprinkled with seasoned flowers like lilies. That is a perfect reception gesture and everyone that comes to your door will always feel welcome.
Easter table for the kids
Easter is another time for you to bond with your kids and what a better way to splash them with goodies than arranging an Easter table for them. A creative way is to take pieces of paper, A3 in size and draw egg shapes on them then let your kids do the decoration on them. Later you can use the pieces of paper as a mat on the table. This is a good gesture of bringing the Easter mood to the table and allows kids to take part.
Copper coated eggs at the center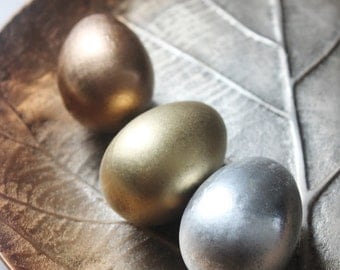 It's interesting yet a bit precarious that metal can be used as a décor. When it comes to Easter, the ceramic eggs coated with copper make up a very shiny and cool centerpiece. Your living room will look ten times luxurious with such decorations, especially if you put all the eggs in a clear glass trifle dish with a splash of green around it, could be mint leaves or even mosses, just perfect.
Eggshells as vessels
This may come as a surprise but it might be one of the most genius and creative ideas of decoration. Taking the egg shells and filling them with some soil and plants is simply brilliant. How do you do this? Simple, just take an egg (extra-large or jumbo size) then using a sharp knife tap one end of the egg then tip it over to spill its contents. After emptying the shell rinse it with water carefully. Then remove some soil around the planted roots, take the roots with the left soil and place in the shell, then add some soil on top and voila, you have an egg planter. You could try out different planters just for decorative purpose and put them on one tray to get the perfect look.
The perfect Egg Nest
The perfect way to play around with paper and to put it to good use. Play around with paper crepe and disposable paper plate to create the perfect nest to put your eggs in. You can also use paper cut-outs or stripped ribbons (although ribbon is more preferred) of different patterns by wrapping them around boiled eggs using an adhesive to create a good décor. This is a more simple and easy to make the centerpiece.
Easter pails centerpiece
Surprisingly these Easter pails can do the job perhaps even better than baskets. Well yes in case you were string trying to wrap your mind around this, pails can also function as baskets when it comes to Easter. It is quite simple actually; just paint, draw or even stamp a perfect shape on the pail with a good design and perfect color and add some dust-wood or Easter grass to the pail. Make sure you fill the pail almost to the brim to be able to hold the eggs, then put the eggs on top. The eggs could have some decorations too, just have some nice pattern design on paper then cut them out and wrap them around the eggs with something to adhere to a decoupage medium. The Easter pails could act as perfect Easter give away and serve as a perfect centerpiece as well.
Garland of eggs
Give your staircase, table or mantel that Easter looks by draping it with an egg-threaded garland. How do you do this? Simple, just make holes on both ends of an egg and thread through the holes using a flexible jewelry cord or a thin ribbon with a needle attached to either of them. You could do this for approximately 20 eggs to connect them and create an adorable garland. The eggs could be dyed with your preferred color shade to make it brighter. Well, in case you wondering how to create holes in an egg without damaging it then here is how. Just create small holes on both ends of an egg using a push pin, then using a wooden skewer push through the hole to expand it and break the egg yolk. Then blow out the yolk from the larger hole to push it through the other hole. If this seems impossible to you, just purchase a plastic egg from those craft stores and make reusable garlands.
In conclusion, Easter is not Easter without the Easter bunnies and the Easter eggs. Getting off a cold season and into the fall cannot be done any better than this. You could start by using Easter eggs to give your home that Easter look is just one of the best ways to celebrate. The eggs could be plastic or real, as long as they are well dyed and decorated. In any household, the Easter egg will always mark as the centerpiece, make a good use of that by creating yours, do it better on your own.