23 Sep

How To Clean After Valentine's Date Night In Your Home

Valentines is such a special day for any typical lovebirds. They all look forward to having a great time as they take the time to reflect on how far they have come. Men, in particular, go out of their way and do a lot of things to impress their lovers. Valentines can be celebrated both indoors or outdoors, either way, the most important thing is how you spend that day with your loved one. Having Valentine date night at your home is purely romantic and classy. For a date night at home, a lot of time is invested in preparation such that one barely remembers about cleaning process thereafter. You shouldn't be surprised when you wake up and find your house all messed up. However, have no fears, here are some great tips that will help you clean up after a date night on Valentines Day or any other date night.

Chocolate is inevitable.
Chocolate is such an essential item during Valentines. Some think it's archaic and cliché but chocolate has been used to grace such occasions by couple world widely. Thus, chocolate stains on the carpet or sofa during a date night sounds like an inevitable thing. Unlike liquids, chocolate takes time before it soaks into a piece of fabric. To get rid of a chocolate stain, scrape the chocolate from the fabric using a spoon then rub some liquid detergent. Then wash the fabric with hot water. Chocolate stains are easy to deal with.
Red wine has to grace valentine.
Valentine sounds incomplete if a bottle or two of wine haven't been popped up already. In the midst of the making merry, red wine spill may find its way on the floor or even the carpet. Dealing with red wine stains on a carpet is not the best activity to kick-start your morning the following day. Blot up the stained area using an absorbent piece of fabric. Gently scrub using a brush with soft bristles so as not to damage the fabric of your carpet. For a garment stained with red wine, apply salt on the stained spot then soak the garment overnight.  From there, wash clean the garment.
Divide and conquer.
A date night of just two people will leave your house looking all dirty and disorganized. Your kitchen will look messed up, the sink full of dishes that need to be attended to. Cleaning up process seems to be tiring and definitely time-consuming. The best mechanism to employ during cleaning is divide and conquer. Identify the various tasks that need to be done that day. From there, start with the task that is less time-consuming. Work your way up to the tasks that consume more time. This technique helps you plan instead of doing things without some sort of organization.
Candle wax on the dinner table.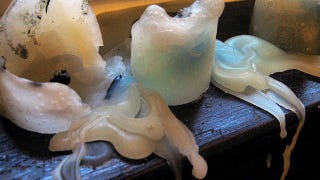 Candles add an array of beauty and elegance to any romantic dinner. A candlelit dinner is just the perfect set up for a valentine date night but you have to deal with the menace of wax. Well, candles may melt on your dining table if they aren't properly mountedmounter. A word of caution; don't be tempted to scratch the wax off the dining table as this will only but destroy your expensive dining table. The best remedy to melted wax is putting ice cubes in a plastic bag and then putting the bag on the wax. Eventually, the wax becomes brittle and making it easy to peel it off.
Lipstick Stains.
Lipstick stains aren't that inevitable during a date night. If you won't have lipstick stains on your clothes then you won't miss them in the glasses you used to drink your wine. For glasses, white vinegar and warm, soapy water will do the trick. For fabric stained with lipstick, lay the stained surface face down on an absorbent cloth. Dab the stain from the back then using a makeup remover wipe, work the liquid from the wipe into the garment. Rotate the cloth as the lipstick continues to be absorbed. Work on the liquid until all the lipstick gets absorbed completely. Then wash the garment in warm water with detergent.
Hire a professional cleaner.
It could be the following day you and your date have to head to work very early or maybe you have to head somewhere else to continue with yourValentine celebrations. In such a scenario it could be impossible to wake up and perform house chores hence it would be advisable you call in a professional cleaner. This will save you a lot of hassle. However, be sure to leave the cleaner with precise instructions on the tasks to be performed. It's also advisable to call in trusted and reputable professional cleaners company.
Identify your motivating factor.
Like stated before, cleaning up process sometimes makes someone feel tired and drenched already even before starting to clean. Before you begin any task, it's better you have some motivation in you. Different people draw their motivation to perform house chores from different things. Mostly, music works for various people. Turn up the volume of your radio and psyche yourself up as you commence the process of cleaning up your house. Research has proven that music has a direct influence on your motivation. When you are fully motivated and psyched up you will be surprised by how soon you will finish the tasks ahead of you.
The post Valentine activities can be overwhelming and cumbersome mostly because very little attention is thrown that way during preparation. If people took time and thought of how they will clean up their house after throwing a party or after having guests coming over for dinner then they would have an easy time. Next time as you plan to have a date night with your lover, also plan how you will clean up your house after the whole occasion has ended. In a nutshell, these tips will work efficiently for you when executed effectively. Plan ahead and save yourself unnecessary troubles on your date and after your date  is long gone and you are left to clean.