23 Sep

Home Improvement Tips That Will Increase The Value Of Your Home.

Everyone wants to live in a cool, classy and sophisticated environment. It is always a good feeling when your guests compliment on everything around your home as they glaze in awe of the masterpieces that you have. However, this is just one of those wishes that you feel you cannot accomplish because either you do not have any idea of what to do or where to start. Here are some of the tips that can help you bring your imagination into reality with ease and increase the value of your home.
Come up with a list.
This is the first step to improving your home. Good planning equals good results. Make a list of everything you need. You can get help from an interior designer in deciding what theme to have in your house. This will act as a guideline when coming up with the list.
Get rid of everything that you no longer need or is not necessary. You can have a yard sale that will help you gather some cash for your next new households. This is important because there will be a lot of room left for the new items and that will save your attic from being overwhelmed with stuff you no longer need. This will make your home less cluttered.
Inspect your home.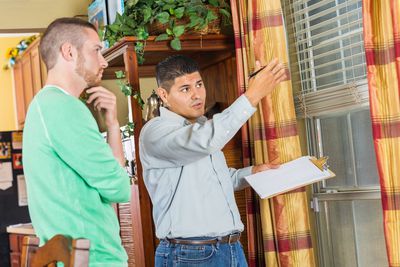 Have some time maybe a day or week depending on how big your home is and look around keenly. Check your wooden floor to see if the varnish has been scrapped off by vacuuming or the soap that you use, check any leak in the roof or opening that might invite termites. You could also call a handyman to come and inspect your drains and drainage system as well. This will ensure that your home stays above standards and is safe from any infestations or clogs.
Concentrate on one room at a time.
Do not overwhelm yourself with too many thoughts about every place in your house. Access one room at a time and be thorough about it. Plan for it and make sure that the plan fits your time and schedule. Have the designers, if you need them. Have them come when you are home for you to approve of what they are doing.
Be keen on costs.
You don't have to go bankrupt after your home re-modeling. Go for DIY in areas of your home where you can actually do it yourself and have the designers cater for the most complicated parts. This will save you money and you will have gained some designing experience yourself. However, if you have the finances to comfortably hire the designers then don't hold back. Go for it.
Upgrade for yourself too.
You do not have to entirely upgrade your home just for its value alone. You can also upgrade to your self-comfort. This includes replacing stuff like sofas, getting a new dining table, having new colors or even getting that flat screen T.V that you've always wanted. A good idea is to have one upgrade monthly on those items or get the less costly ones and tackle them first.
The weather can really mess up our exterior paint. Over the years after moving in, you will find that there are chips of paint falling off your walls both inside and outside of your home. This can really be a disadvantage to your home value. Yes, your interior may look beautiful and classy but first impressions count. Your guests will see the exterior first and that may result in quick judging. They may not even have the curiosity to get inside your house.
Maintain cleanliness.
Be keen on the hygiene of your home. This is not only limited to your indoor areas but outdoors as well. Mow your lawn at least once every fortnight and as you do it, check for spaces on your fence caused by dogs and other animals. Trim your trees and outdoor plants just to keep your compound looking presentable. Always wash your house tiles or wooden floors with the right soaps and check on your kitchen areas too to maintain that sparkling look. No potential buyer would want to walk in a dirty looking house with visible dust all over. Cleanliness also adds on to health benefits for you and your family.
Do a mini-remodel.
Your home doesn't have to look all the same in terms of the location of your walls. The tiles do not have to be the same year in year out. Knock out one wall to create space in the kitchen. Re-vanish your cabinets all over the house. You could even opt for a glass ceiling in your living room to create that cool environment. Paint different colors in your rooms to create a variety of designs that willincrease the value of your home. Let every room be a surprise for your guests.
Organize your garage.
Just by the name garage, you imagine all sorts of oily stuff lying around. Well, it doesn't have to be like that. In fact, your garage should look better just for it to have a different effect on everyone's mind. Seclude a wall and have it well painted. Mount your tools and label them well or if you feel like that will make your walls look very busy, you could try having an inbuilt toolbox that you can slide off the space in between a self-made opening on your wall.
From these tips, your home will definitely have that loveliness to it and be sure the buyer will not have any mistake to point out as long as you are thorough with every part of your home. Do not ignore any minor place including the store, artic or pantry. Have fun doing it as it is a whole new experience especially if you are a first-time homeowner. Do not shy away from trying new designs, ideas or colors but also be keen on the quality of what you are replacing. Let the difference be something remarkable that will indeed increase the value of your home. Something that you can feel proud to show off to potential buyers and fetch a great price for.